Smart Valley Armenia with a club residential quarter Villagio and an international-level hotel complex will be built in Armenia. The Investico company together with Synergy Comfort Hotels, representing the Marriott International hotel chain, and with the support of the RA government, announced the start of the project, which according to its concept will be the first in Armenia. This is the construction project of the club residential quarter Villagio, which will become the heart of the Armenian innovation valley called Smart Valley Armenia. The valley will be located between Yerevan and Etchmiadzin. The founder of the Smart Valley Armenia project, Metso Igityan, and the governor of the Armavir region of Armenia, Edward Hovhannisyan, signed a memorandum of strategic partnership for the implementation of the Armenian innovation valley project.
And the managing partner of the company Investico Vyacheslav Kazaryan concluded an agreement with Synergy Comfort Hotels, representing the hotel chain Marriott International, on the start of the implementation of the Villagio project, which will be the first of four residential quarters in the valley. According to Metso Igityan, Smart Valley Armenia is created as a world-class innovation valley that unites investors, projects and experts in a single ecosystem of a professional community for the creation and development of advanced technologies, as well as comfortable conditions for work and living according to the highest international standards.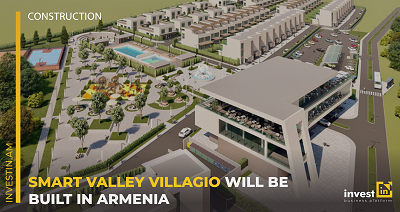 "For many years, a team of experts and specialists from different countries studied the best world practices to create an analogue of the Californian Silicon Valley in Armenia. Studying the world experience and gathering all the brave thoughts, we came up with ideas for creating creative spaces, developed urbanization standards and chose a place with attractive views between Yerevan and Etchmiadzin. It is important that the urban space was arranged as ergonomically and harmoniously as possible. Therefore, the building principle was chosen, according to which low-rise buildings with a reasonable density of accommodation are built. All necessary buildings (housing, infrastructure, office and educational spaces, medical centers, recreation and entertainment facilities) must be within walking distance. In fact, this is another level and another quality of life, even more precisely, this is another way of life," Metso Igityan noted in his speech.
At the first stage, the construction of the club residential quarter Villagio, which is the first of four planned to be located in Smart Valley Armenia, will be implemented. Villagio - a quarter of a fundamentally new level for those who truly appreciate quality, restrained luxury, ecology and unity with nature. The construction of residential complexes will create new requirements for consumers. This, in turn, will lead to the construction of complexes in accordance with international standards and will attract tourists, investors, as well as guests of our country, who will be able to live and work in a more comfortable environment. Villagio consists of a 4-5* international hotel chain hotel complex with 150 rooms, 105 apartments, 33 townhouses and 14 villas, as well as a children's development center, a supermarket, a bakery, a cafe, restaurants, a co-working space, a pharmacy, a fitness club, spa center, outdoor pools, tennis courts, sports grounds and summer amphitheater.
"We and the Marriott company were very interested in the Villagio project, we decided to contribute to it. Villagio is especially interesting because it includes not only a hotel complex, but also other types of commercial real estate, such as townhouses, apartments, villas, which are suitable for Long-term residence. This will attract those who appreciate comfort and by purchasing a premium class property, they will also receive service from an international brand," Karina Galustiants, CEO of Synergy Comfort Hotels, representing the brands of the international hotel chain management company and Marriott International, announced in her speech. The construction of the Villagio club quarter is planned to be completed in 2025, and the total implementation period of the Smart Valley Armenia innovation valley project, which includes office complexes, clusters, laboratories, the House of Arts, the National Institute of Science and Technology, is until 2028.