Cryptocurrency investment platform ECOS has been operating a mining center on the grounds of the Hrazdan Power Plant since 2018. Situated there, the mining facility gets its electricity supply directly from the high-voltage grid and uses the site's infrastructure to power containers. The area is well-suited for cryptocurrency mining, settled in a mountainous region of Armenia with an annual average temperature of 4.8°C.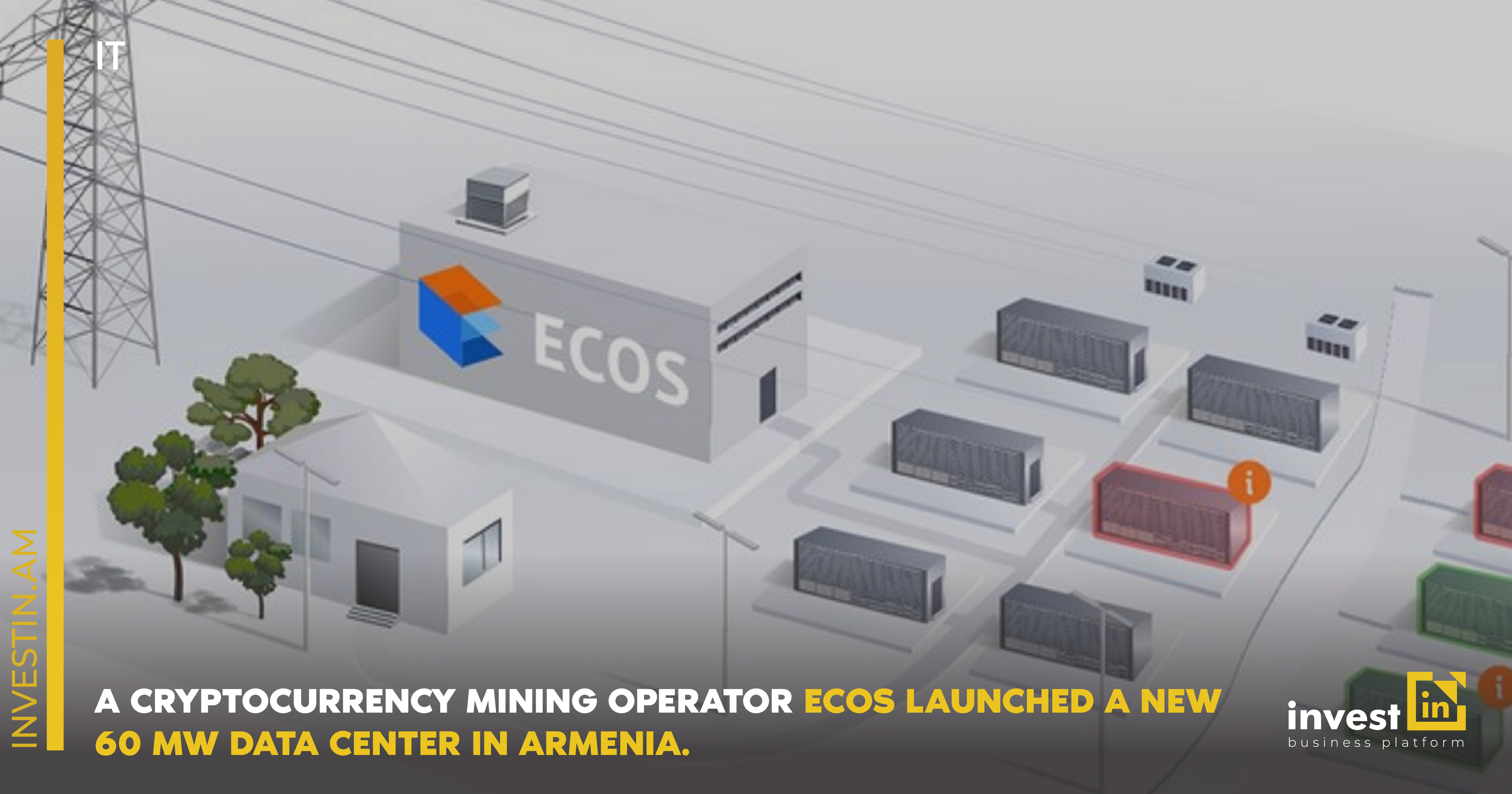 The ECOS data center receives an additional 60 MW of clean, affordable, and stable electricity from high-voltage networks, which makes it possible to claim almost 100% uninterrupted operation of electricity. The site can accommodate more than 20,000 mining devices in an area of 2.2 hectares, with the possibility of expanding to an additional 200 MW. The infrastructure at the site includes a data and service center and warehousing for equipment and spare parts. Seven shipping containers make up the data center, housing around 250 mining units. ECOS acquires its miners directly from Chinese manufacturer Bitmain. The firm's cloud mining service has around 258,000 users, while it also sells and services equipment to clients.
Moreover, as the result of a partnership between the Armenian government and ECOS, in 2019 a free economic zone (FEZ) ECOS was launched aimed at making use of the power facility as a hub for data centers and cryptocurrency mining. Residents of FEZ have privileges such as zero commercial taxes, access to the ECOS Infrastructure (smart offices, power plant, mining farm, investment services platform, R&D centers, and many more), a specialist base, and a convenient communication platform, as well as the possibility of hiring foreign labor without restrictions, and exemption from all currency restrictions for a period of 25 years. Besides, they are granted the right to repatriate investment capital, profits, and dividends.
There are 3 other Free Economic Zones in Armenia: «Alliance», «Meridian» and «Megri». The Free Economic Zone «Alliance» specializes in the production and export of high-tech and innovative technologies in the fields of electronics, precision engineering, pharmaceuticals and biotechnology, information technology, alternative energy, industrial design, and telecommunications. «Meridian» is specialized in jewelry, stone cutting, and watchmaking. Specialization of «Megri» FEZ is industrial and logistic: in the sphere of agriculture, manufacturing, electricity supply, trade, transportation and economy storage, professional and technical activity, culture, tourism, entertainment, and recreation. The details on FEZ can be found on the website of the Ministry of Economy of RA: https://mineconomy.am/page/360